The Galston Garden Club Open Gardens 2023
OCTOBER 20th, 21st, 22nd 2023 ~ 9.30 AM TO 4.30 PM ON EACH DAY
The Galston Garden Club is proud to present seven outstanding acreage gardens which will delight and inspire any visitor. You will find a host of plants of all shapes and sizes, spectacular flowering shrubs, wonderful specimen trees, water features, garden architecture and lots of ideas. It is always fascinating to see how different owners have developed their gardens to suit the topography of the land and their own tastes and interests.
Tickets are available on the open days at the Galston Club, 21 Arcadia Road, or at any of the gardens. An inclusive ticket for $25 per person gives entrance to all the gardens (ticket is valid for three days), OR entrance to a single garden is $5 per person. EFTPOS is available at the Galston Club and at Garden 4, but if you are going directly to one of the other gardens please bring cash. Children under 18 years are admitted free.
All the workers for this Open Gardens Weekend are unpaid volunteers from the Galston Garden Club and other community groups. All profits are distributed to medical research and other charities and community projects.
---
OUR GARDENS ON DISPLAY FOR 2023
Garden 1 "Villa Jomar" 16 Lawrence Road Kenthurst. Presented by Mary & Jo Borg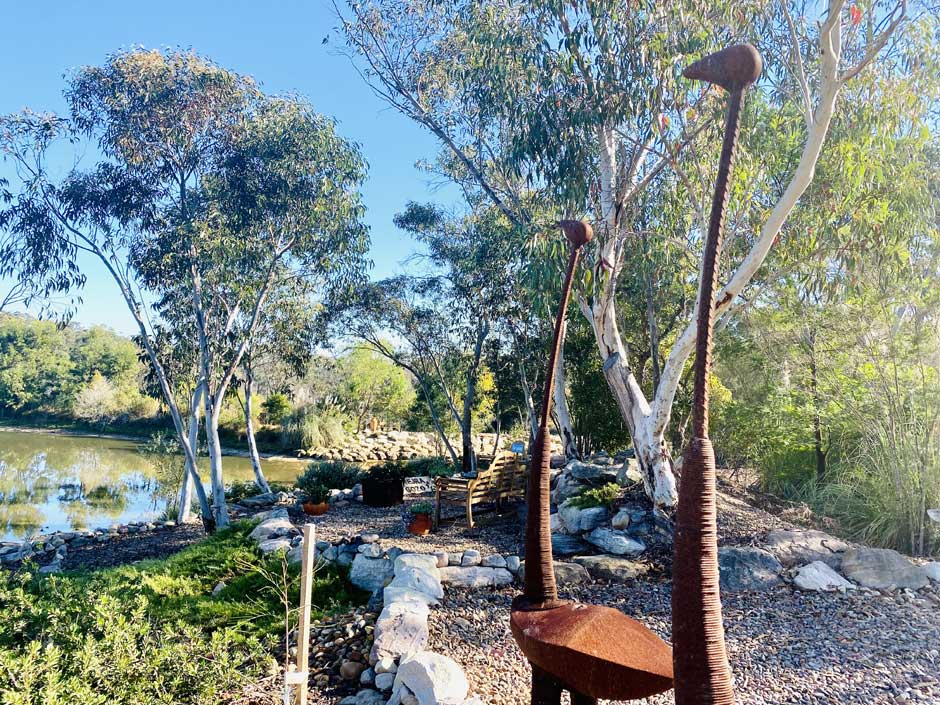 The remodelled back section of the fully landscaped 5-acre property captures a marriage between our Australian Native Bush and Mediterranean Garden Culture. It encompasses a big dam walled with large sandstone boulders. Extensive wide pebble paths meander throughout and link numerous garden rooms, very suitable as picnic spots. A restored watercourse and a large wooden bridge leads you to more garden and picnic spots. Other features of the garden include strategically placed stones, vegetable bins, olive tree garden, Grevillea and Pine avenues, exposed rock shelves, succulent plants, numerous variety of trees, thousands of bulbs, and more. The section around the home is a formal garden with extensive manicured hedging and welcoming shade. Toilet is available. Suitable for picnics. Numerous seating throughout the garden
---
Garden 2 20 Uralla Road, Dural. Presented by Pamela and Hugh Wallace
A spectacular collector's garden containing a huge range of interesting plants and different themed gardens. Hedges and topiary create a formal look around the house, with stone walls retaining extensive borders of roses, salvias, Clematis, irises and many cottage perennials. A woodland area includes camellias, bromeliads, and naturalistic gardens contain a variety of natives, exotics and drought tolerant species with foliage providing year round colour and interest in all seasons. A romantic garden created by a passionate gardener.
---
Garden 3 "Neringa" 44 Mid Dural Road Middle Dural. Presented by Judy and Rob Horton
Rob and Judy's casual garden blends with the natural forest on this sloping 2ha block. Along the driveway and around the house a number of less common plants have been labelled for identification. Behind the house go past the sunken garden and the small dam to take an easy 500m bush walk, much used at night by the resident swamp wallabies, that leads visitors from the shale-influenced western side of the property to the sloping sandstone section with its markedly different vegetation. Along the watercourse at the bottom of the gully, a proliferation of small-leafed privet is gradually being replaced by rainforest trees.
---
Garden 4 "Savannah" 51 Mid Dural Road, Middle Dural Presented by Hugh Crompton and Richard Howard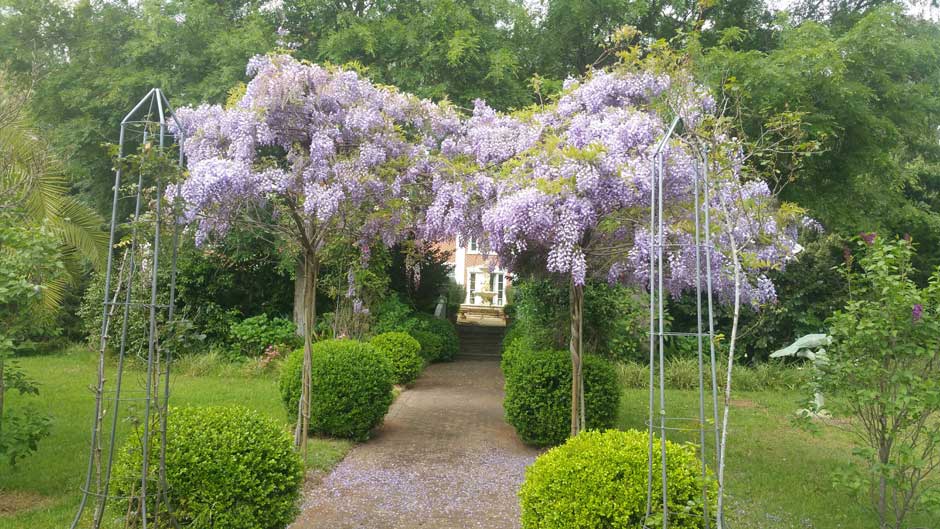 A sweeping driveway flows through this park like garden towards the house, which is at the rear of the property. Scattered throughout are interesting conifers and other specimen trees, complemented by a range of statues and ornaments. Lots of camellias, azaleas and moisture loving plants along the watercourse, which flows through the garden. Morning and Afternoon Teas available. Stalls. Toilet.
---
Garden 5 "Burnt Rails" 28 Glen Street Galston Presented by Dot & Bob Butler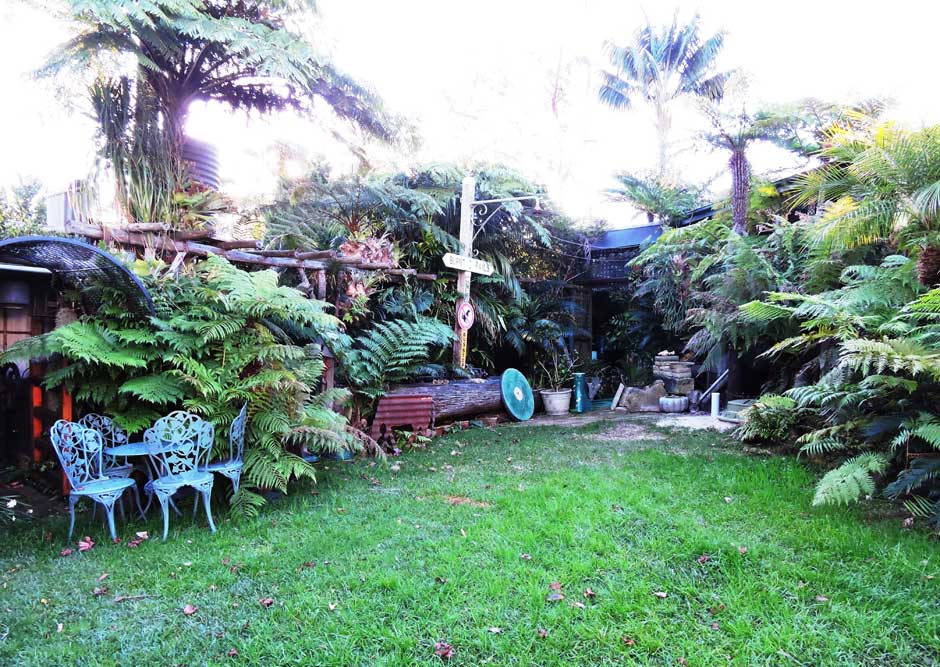 This green oasis is an excellent example of what can fit into a small shaded garden. It contains hundreds of ferns, including tree ferns, stags, elks and birds nest ferns plus cycads, palms, orchids and other rainforest plants. There are numerous small water features and an amazing collection of rustic Australiana items with a display of antique tools. Can drop off at the top of the hill and park at lower level in Glen Street. Not suitable for wheelchairs.
---
Garden 6 "Elegans" 21 Fishburns Road, Galston. Presented by Bill Fleming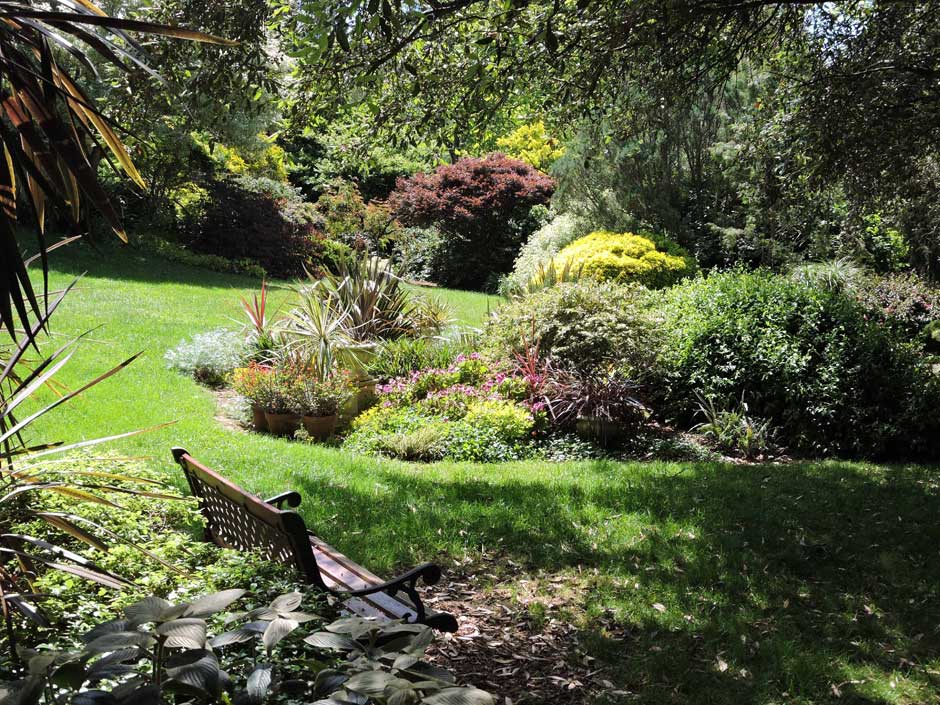 A collector's garden based on coloured foliage effects, containing a huge range of plants including lots of maples, camellias, conifers, abutilons, begonias, bromeliads and cordylines. Set around four large ponds it incorporates many bridges and arches into an informal "paradise" style with pathways wandering off in all directions. There is a large succulent collection, many hanging baskets with epiphyllums and rhipsalis, and a shade house with many interesting plants. Toilet
---
Garden 7 Boulevard, 20 Wylds Road, Middle Dural. Presented by Craig Teece.
This year all of the garden will be on display.  Last year only about 30% pf the garden was open to the visiting public due to serious damage from the previous 2 year EL Nino event.  As well this year a new feature of the garden, "Halloween Garden Cove" will captivate the kids visiting with their parents, not to mention the 100 odd sculptures scattered around the garden.  Craig strorongly believes in the need to cater for all garden visitors. Parking in front of Linga Longa nursery.
---